Do you have any idea what is Isagenix 9 day cleanse?
I am Cindy, and I didn't know much about this cleanse either.
I have been dealing with obesity for many years and have tried various cleanse programs and fat loss regimes but hadn't heard about the Isagenix 9 day cleanse.
However, when my friend recommended it to me and told me how effective it was, I decided to learn further about it.
100% Money-Back Guarantee
Isagenix is committed to providing you with high-quality, no-compromise products. If you are not 100% satisfied for any reason, you have 30 days from the date of purchase to initiate a return.
Isagenix 9 Day Cleanse Instructions
The Isagenix 9 day cleanse a weight loss program that helps you in losing weight quickly.
There are two components of this program; one is the shake day, and the other is the cleanse day.
A shake day is where you have to drink meal replacement shakes throughout a day in place of regular meals.
On the other hand, the cleanse day requires you to use products that help in cleansing the body of toxins.
Each of these days has a separate plan which you will have to follow to complete this cleansing program successfully.
The following products are included in the Isagenix 9 day cleanse that will have to be used on sake days and cleanse days.
IsaLean Meal Replacement Shake
IsaLean shake is one of the principal products you will have to use on both shakes and cleanse days.
You will have to replace two of your meals throughout the day with IsaLean shakes.
It is a proprietary formula developed to fulfill all your nutritional needs. So, you will not feel malnourished. In fact, the IsaLean shake contains 23 grams of high-quality whey and protein, which will help you maintain lean body mass.
Supercharged trace minerals have also been blended into this shake which makes it a complete meal.
It has lower levels of lactose present in it which makes it easier to digest. In addition to this, the IsaLean shake is enzyme activated, which helps in the maximum absorption of important nutrients.
Here you can read my review of Isalean Shake by Isagenix.
Cleanse for Life
Cleanse for Life is the most important product you will use during the Isagenix 9 day cleanse.
It is a cleansing agent which is neither a diuretic nor a laxative. In fact, cleanse for life provides nutrition to the body and, in doing so, helps stimulate the natural cleansing system of your body.
Thus, cleanse for life helps your body cleanse the toxins and impurities that continuously accumulate inside it.
This product is different from other traditional cleanses as it encourages effective and safe weight loss.
Cleanse for life contains Aloe Vera, antioxidants, ionic minerals, and 100 other nutrients that boost the body's immune system and enhance your mental and physical energy.
This product is only to be taken on cleanse days.
Isagenix Snacks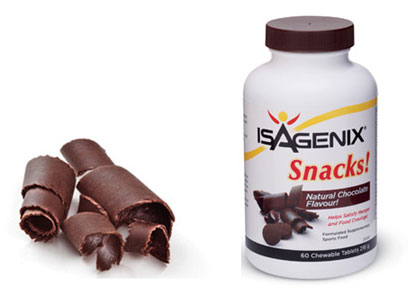 Isagenix snacks are mandatory for cleanse days but can be enjoyed during shake days as well.
These snacks contain high-quality whey and casein protein which boosts your energy and at the same time curb your food cravings.
The Isagenix snacks are a perfect blend of taste and nutrition and do not have a high calorific value.
Taking these snacks will help you feel full for a long period while also reducing your calorie intake as well.
So, if you feel the need to eat something in between mealtimes, you can enjoy these snacks to satisfy your hunger.
However, do keep in mind that you can only take a maximum of two snacks on shake days and a total of 6 snacks on cleanse days.
Natural Accelerator
Natural Accelerator is another vital product that is included in the Isagenix 9 day cleanse.
It contains thermogenic ingredients that have been picked carefully to boost your body's fat-burning ability in a natural manner.
Aside from burning fat, the natural accelerator also provides you energy as well.
This product has been made using ingredients like ginseng, cinnamon, green tea, and cayenne which assist in the natural burning of fat.
In addition to these ingredients, there are nutrients included in the natural accelerator which enhances the ability of the liver to metabolize fat.
Antioxidants are added to this product that fights against the free radicals that continue to damage the body.
Since the natural accelerator is an excellent appetite suppressor, you will have to use it on both shakes and cleanse days.
Isagenix 9 Day Cleanse Schedule
Isagenix's 9 day cleanse follows a specific schedule. It is one of the more demanding cleanse programs offered by Isagenix and requires total commitment from the participants.
If you want to achieve the best results from this weight loss program, you will have to follow the letter's schedule and instructions.
The Isagenix 9 day cleanse schedule commands that you start with two shake days to prepare yourself for the program.
You will start the Isagenix 9 day cleanse with two consecutive cleanse days.
After that, you will observe 5 consecutive shake days and end the cleanse program with two back-to-cleanse days back. The schedule for each shake day and cleanse day is as follows.
Shake Day Schedule
You will start every shake day by consuming an IsaLean shake in the morning for breakfast.
You need to replace either your lunch or dinner with another IsaLean shake.
The one remaining meal should not be more than 600 calories and must have a low-glycemic value.
You will have to take a Natural Accelerator capsule before taking your shake.
The Natural Accelerator would have to be retaken at lunch.
You can take 2 Isagenix Snacks on your shake days, one at mid-morning while the other at mid-afternoon.
Do remember that you will have to drink at least 80oz of water throughout the day.
Cleanse Day Schedule
On a cleanse day, you will have to take at least four servings of Cleanse for Life.
These servings will have to be taken in the morning, at noon, late afternoon, and dinnertime.
Natural Accelerator capsules will have to be consumed once in the morning and once in the afternoon.
You can enjoy up to 6 Isagenix Snacks on a cleanse day which can be planned throughout the day.
Just like on a shake day, you will have to drink up to 80oz of water throughout a cleanse day as well.
Isagenix 9 Day Cleanse Reviews
Isagenix 9 day cleanse received positive reviews from the customers so far.
People who have tried it have found it to be quite effective for weight loss.
Clint J. from Minnesota is among the people for whom the Isagenix 9 day cleanse has proven to be a life-changing experience. He says that starting this program has motivated him to lead a healthy lifestyle and make better choices when it comes to his weight.

Hope H. from New York is another of the beneficiaries of the Isagenix 9 day cleanse. She says that she started feeling the results of this fat burning program from the outset. Hope believes that this cleanse program has helped her in eating healthier and is looking forward to share her results with others.
Isagenix 9 Day Cleanse Cost and Where to Buy
The Isagenix 9 day cleanse available at the Isagenix website for a price of $260.69. If you are going to sign up then, you can save up to $46.50 and get the whole program for a price of only $189.19. The signup fee is $25. The best part of buying the program from this website is that you are provided a 30-day money-back guarantee on your first order. This means that if you are not satisfied with the product, you can return it to get your money back within a month.
Isagenix 9 Day Cleanse Side Effects
The Isagenix 9 day cleanse program does not have many side effects.
However, some people have complained of headaches and lethargy while completing this fat-burning program.
When the body loses weight quickly, it goes through some changes, which can sometimes cause headaches.
Moreover, during the cleanse program, you avoid using stimulants like caffeine, whose withdrawal symptoms can result in headaches.
These side effects don't last long, though and usually, disappear within a day or two on their own.
And what about Isagenix 30 Day Cleanse?
Isagenix has made an even longer plan for weight loss and detoxification. It is a 30 day cleanse program, and here you can read my full review and schedule plan.
Conclusion
In a nutshell, the Isagenix 9 day cleanse is an effective weight loss regime that can help you lose weight quickly.
Although it is a little demanding and requires a higher level of commitment from you, its results are quite unbelievable.
I have tried this fat-burning program myself and have found it extremely beneficial for weight loss.
If you have any questions regarding the Isagenix 9 day, cleanse then feel free to ask them in the comments section below.