Flaxseed is one of the most beneficial super-food for health.
I make sure I include flaxseed in my diet regularly. This has come to me as a boon because it can cure so many day-to-day health problems.
I will discuss that later, but let me tell you how much flaxseed per day is recommended.
Experts and scientists say that the daily recommended dose of these seeds is two tablespoons.
Mind you, two tablespoons of ground flaxseed. If you eat the whole, there are chances it will pass your gut without getting digested.
It is advisable to start with 1/2 tablespoon and then increase the dose slowly.
Now, the treatment also depends on your health conditions.
If you are in the perfect shape of health, 2 tablespoons to maintain good health is enough.
But if you are suffering from any problems like constipation or want to consume this for weight loss, then the doses differ.
I recommended these flax seed sellers from Amazon:
| | |
| --- | --- |
| Premium Gold Whole Flax Seed | Bob's Red Mill Whole Golden Flaxseed |
| Healthworks Ground Flaxseed Organic | Spectrum Essentials Organic Ground Flaxseed |
Below is a quick snapshot of flaxseed daily dosage instructions: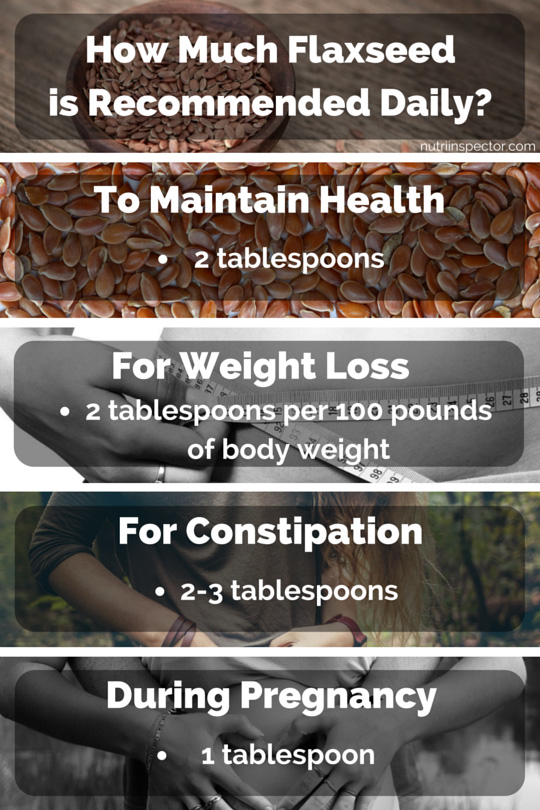 How much flaxseed for weight loss?
Talking about weight loss, I will first tell you how flaxseed facilitates weight loss.
So the most important thing is, flaxseed has a huge amount of fiber in it.
The fiber content reduces the appetite, and thus, you will feel less hungry. Secondly, the Omega – 3 fatty acids also improve metabolism.
Increased metabolism results in increased digestion and less deposition of fat.
The Daily recommended dose of flaxseed for weight loss is 2 tablespoons per 100 pounds of body weight.
Still, it is better to slowly increase the dose, starting with 1/2 tablespoon to avoid any complications or reactions.
How much flaxseed gets rid of constipation?
Flaxseed is a savior in constipation for me. You can get rid of constipation without actually having to gulp laxatives.
These seeds have mucilage in them. Mucilage is essentially that slimy compound that can temporarily cover the inner lining of the digestive tract and protect it.
Make sure you do not consume these seeds whole. For the maximum benefit, grind them to powder and then consume.
You can grind flaxseed in various ways using a flax mill, coffee bean grinder, food processor, or even with a mortar and pestle.
The dosage to get rid of constipation is 2 to 3 tablespoons. Please take a note here; it is essential to drink adequate water while having flaxseed for constipation.
Else, it will show a reverse effect by further increasing your constipation. The fibers in this seed soak water like a sponge.
So make sure you drink 10 times as much water as you are consuming flaxseed.
How much flaxseed during pregnancy?
Flaxseed is very beneficial during pregnancy because it contains some of the most vital nutrients.
Your body needs Omega – 3 fatty acids and also fibers at the time of pregnancy.
These seeds are super rich in omega – 3 fatty acids and help lower cholesterol and high blood pressure.
One more benefit is it acts as a laxative. During pregnancy, it prevents irritable bowel and also constipation.
This can get on the nerves when you are pregnant, so flaxseed is pretty much useful.
Moreover, hot flashes are very common during pregnancy. Flaxseed helps in reducing these hot flashes significantly.
Approximately one tablespoon of ground flaxseed is recommended to eat during the pregnancy.
In addition to this, you can also keep your blood sugar in control, which can create uncalled-for problems when it gets high.
Having said that, I would like you to know; flaxseed can show some side effects as well during pregnancy.
If it does not suit you, it can cause nausea or an allergic reaction. It is always advisable to check with your physician or relatives before consuming it.
How to eat flaxseed?
As I have already mentioned before, if you consume flaxseed whole without grinding, you might not get the 100% benefit.
So better is to grind it and then have. You can have it mixed with your snacks or just the powder of it with water.
Include the whole seed or its powder into the batter of your bread or muffin. Bake that and consume.
It will be much healthy and also add an excellent taste to your preparation.
You can include these seeds into things like smoothies as well. Add 1 or 2 tablespoons of flaxseed powder to it and have it regularly.
It will add all the necessary fibers your body needs additional nutrients as well.
If you want to make sure you start your mornings healthy, include flaxseed into your cereal meals. You can mix the powder into your oatmeal and consume it daily.
I have made it a habit so that I don't miss out on it even one day. These seeds can also be used to garnish and add a mild nutty flavor to anything you want.
Garnish and flavor your yogurt or salads with flax seeds and avail of its health benefits.
Benefits of eating flaxseed daily
After telling you how to eat flax seeds, I will also let you know the unbeatable health benefits you can avail yourself of flax seeds.
These little flax seeds prevent your body from high blood pressure, cancer, and raised cholesterol and sugar levels. There is a reason that they are so popular in the market.
You can get rid of constipation by consuming flaxseed powder with adequate water.
It helps a pregnant woman to decrease the occurrence of hot flashes.
The omega – 3 fatty acids are essential for improving metabolism, facilitating digestion, and also, for a child or infant, they help in brain development.
Flax seeds are rich in manganese, thiamine, omega – 3 fatty acids, copper, and necessary dietary fiber.
These are known as a superfood because of their so many health benefits. Take a step towards a healthy lifestyle by incorporating flax seeds into your diet. You will feel the difference.
Do not forget to ask any questions or put forward your queries in the comments below. I am always happy to receive them and address them for you!
References