Are you deficient in some nutrients?
Do you lack protein intake? ​Do you lack time to prepare all the meals for your vegan diet?
As a vegan, you probably answered with YES on all these questions. In that case, you need a vegan meal replacement shake.
Consuming a meal replacement shake that doesn't have proper ingredients for vegans could do more harm than if you don't eat anything for the meal.
Trying to find a totally vegan meal replacement shake can be difficult.
More often than not, they are loaded with sugar and chemicals that make them nearly impossible to drink.
When I started looking for a vegan meal replacement shake, I thought I would never find something that gave me the protein and nutrients I needed without all of the extra chemicals and artificial ingredients.​
Therefore, I have created a below comparison table and a list of the best vegan meal replacement shakes:​
Top Vegan Meal Replacement Shakes​
If you find any of the above-listed vegans shakes interesting for your needs, you can read more detailed reviews below:
Vega All-In-One Shake Review – Best Vegan Shake Award
The Vega One All-in-One Nutritional Shake is a product designed for health-conscious people, fitness enthusiasts, and a weight loss diet.
The Vega One shake provides all in a delicious scoop all the good stuff you would choose if you would have the time. The product is made from real, whole food ingredients, with no added sugar.
The Vega One shake caters to the health-conscious community, vegans, and fitness enthusiasts that need a good meal replacement option. However, being a low-glycemic product that is also low in calories, the Vega One All-in-One Nutritional Shake is not indicated for those who want to gain weight fast.
Features & Benefits
The Vega One All-in-One Nutritional Shake gives you only 160 calories per serving while containing all the essentials your body needs: six servings of greens, 50% daily intake of food-based vitamins and minerals made from vegetables and fruits, 20 grams of complete, multisource, plant-based protein, plus antioxidants, Omega-3s, fiber, and probiotics. Vega One also has the advantage of being gluten-free, Non-GMO Project verified, low-glycemic, and vegan certified.
PROS & CONS
Among the pros to the Vega One shake are included the fact that the product is GMO-free, gluten-free, and vegan certified. The only drawback of the product is those who want to gain weight fast due to its low glycemic index and low-calorie content.
CONCLUSION
For those looking for a good meal replacement option, the Vega One All-in-One Nutritional Shake could make a great healthy choice. The product could provide all the necessary daily intake of antioxidants, proteins, fiber, Omega-3s, minerals, and vitamins from fruits and vegetables.
For those looking for a good meal replacement option, the Vega One All-in-One Nutritional Shake could make a great healthy choice. The product could provide all the necessary daily intake of antioxidants, proteins, fiber, Omega-3s, minerals, and vitamins from fruits and vegetables.
Another great fact about the Vega One All-in-One Nutritional Shake is that this is not one of your regular protein shake options high in calories and full of artificial ingredients. The Vega One shake is made only from natural fruits and vegetables. The French Vanilla flavor is a great choice of flavor to try out.
---
​Illumin8 Plant-Based Meal Shake
Sunwarrior is dedicated to providing plant-based nutrition without gluten, added fillers, added sugars, soy, or dairy.
Illumin8 is totally built with plants. It has all the healthy fats, minerals, and vitamins I need for a balanced and healthy diet.
They use only yellow peas, brown rice, chia, quinoa, flax, and sprouts for protein.
They also add in a ton of good enzymes to ensure that your body can absorb all the nutrients from Illumin8 is the most effective way.
This is a great shake for people who need extra protein after workouts and people looking for a good meal replacement for weight loss.
PROS​
There are so many pros to Illumin8.
First of all and the most obvious, it is an all-natural vegan meal replacement shake. This can be so incredibly hard to find. With the current reliance that most shakes have artificial ingredients and chemicals, IIlumin8's commitment to staying all-natural and organic means that I can feel good about what I am putting into my body.
I also love that they included coconut as a source of healthy fats. I have been trying to find foods that included coconut in them because I love the health benefits, but I had never seen it in a meal replacement shake until IIlumin8.
Another big plus that is important to me is the added probiotics. Sometimes, as a vegan, it can be hard to get the probiotics I need, so this is a great way to keep my gut healthy and working well.
Did I mention the flavor? Their mocha flavor is out of this world! I usually blend it up with some ice, coffee, and almond milk. It tastes like a delicious (and good for you) milkshake.​
CONS
The one major problem that I have with Illumin8 is that it sometimes doesn't blend well if I use my blender bottle. That is why I make that delicious coffee drink in the blender. If I shake it long enough in my blender bottle, I can usually get it all blended, but sometimes I am not that patient.
Bottom line:
Illumin8 is a fantastic vegan meal replacement shake. It gives me the all-natural protein I need with added vitamins, minerals, and probiotics.
Sunwarrior's commitment to all-natural products is a big part of why I tried Illumin8 in the first place.
If you are looking for a good vegan shake that will deliver the nutrition you need in a delicious and well-made package, I highly recommend trying out Illumin8.​
---
Garden of Life Meal Shake Review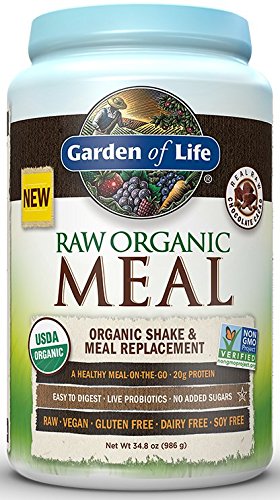 Leading a healthy lifestyle becomes more and more popular these days. This led to the emergence of new goods for people who like being active. The more active you are, the more nutrients you need.
Unfortunately, we can not receive all the nutrients we need with food. Or we would have to eat all day long! This is not acceptable, and that's why the Garden of Life was designed.
It is meant to help people to be healthy and stay in shape. This product is number one on the shopping list for athletes who aim to build lean muscle mass.
Garden of Life contains a lot of pure protein. That's why bodybuilders need to add it to their diet. People who want to lose weight need to purchase it too. It is known that along with losing weight, nails, hair, and teeth lose useful minerals.
It happens because, on a diet, our organism suffers from a shortage of vitamins. This protein powder is a great tool for keeping everything in balance. Vegetarians should consider this product because it is based on raw plants and provides precious protein that vegans lack.
Why is it so useful?
Garden of Life has the following features:
The single shake combines in itself 6 grams of fiber and 21 vitamins. Your body will say thank you and function properly if you regularly feed it with such a vitamin cocktail;
This supplement contains useful nutrients of 44 raw products: quinoa, brown rice, sprout, cucumber, carrot, tomato, pepper, blueberry, raspberry, and many others. All products are raw, which means they contain pure (the most useful type) protein because every kind of processing destroys protein;
One scoop contains 20 grams of pure protein, which equals the amount in a chicken steak, a serving of salmon, or a few eggs.
It is rich with probiotics: 12 enzymes and one and a half billions of probiotics help your digestion system;
Meal Replacement Shake is tasty! It has a pleasant vanilla flavor.
PROS & CONS
a great supplement for those who want to transform their body (gain muscle mass, build relief, lose weight);
gives a rush of energy after an effective training session;
suitable for fans of a vegetarian lifestyle;
can substitute a meal and can be eaten everywhere;
a combination of useful and tasty;
the only disadvantage is that it was not yet checked and approved by the Food and Drug Administration.
If you are a vegetarian who wants to keep up a sufficient amount of protein, you need the Garden of Life Shake.
---
Orgain Organic Vegan Shake Review
Everybody deserves to be healthy. However, because of the many hustles and bustles of everyday life, only a few can keep up with the need to take healthy snacks and drink healthy beverages freshly prepared in their homes. For some, it may seem a hopeless goal simply because they do not have the time to prepare.
Orgain's plant-based organic nutrition shake is about to change everything when defining the overall concept of health drinks that are made available for every individual whether or not they have the time to prepare. Orgain nutritional shake is something that fits the overall needs of anyone who is always on the go.
WHAT'S INSIDE?
Organic Vegan sweet vanilla bean nutritional shakes are composed of 16g of organic plant-based protein, which gives it that delicious and refreshing taste.
The 2g of dietary fiber in the ingredient improves digestion and nutrient absorption of the body.
There are also at least 21 vitamins present in the shake, which are all needed to build up health conditions.
Ten selections of fruits and vegetables are all added to the shake that increases the natural value of the beverage.
All these only accounts for a 200 calorie rate per serving.​
FEATURES
Everything in this drink is organic. Unlike other healthy beverages, as claimed by some brands, the Orgain nutrition shake is gluten-free and free of GMO additives. The manufacturers also made sure that everything in the drink is free from any artificial factors. Hence, no artificial flavors and coloring are added to this health drink.
It is also safe even for individuals who are lactose intolerant and others who have particular allergies to specific food groups. It is noted to be gluten-free, dairy-free, soy-free, and it is fully vegan. All these made this beverage USDA organic.
Individuals who have had the chance to try this drink all mention how well their health improved in just a few weeks of daily intake. Most of them reported that they feel refreshed and energized every time they drink Orgain's organic shake. People who have certain allergies were just glad that they have this beverage as a distinct choice of drink that they do not have to worry about, especially when dealing with their allergies.
CONCLUSION
True, for everyone who needs a good choice of beverage that would be healthy enough to boost their strength and energy throughout the day, Orgain beverage is the best choice.
The work of Orgain proves to be the best option not only for health-conscious individuals but also for those who are aiming to change their eating and drinking habits to improve their health. Young and old could be benefited from what this beverage offers.
Taking a healthier option always pays a great price in the end. A healthier life is always much more satisfying, and to have this, your food and drink choices would surely make a great impact on your goal.​
---
Soylent Drink Shake Review

Eating healthy is a very hectic and fast-paced life that is all the buzz these days. With the thousands of celebrity-approved diets and all claims of nutritional benefits from restaurants, you end up eating everything labeled "healthy" while getting no results.
Soylent is here to bring together health and convenience in a single bottle. For busy moms and dads, driven young professionals, students on the go, Soylent is the "food of the future." Here's why:
WHAT'S INSIDE?
Soylent is simply a meal in a ready-to-drink bottle, providing you with the benefits and nutrients you normally get from a regular meal.
This is a perfect solution for people on the go. So if you're stuck with and in school, it will save you time from heading out and ending with unhealthy food from a fast-food chain.
Soylent contains the essential nutrients to keep up with the nutrient requirements, which you don't even get from an actual meal. Made with soy protein, sunflower oil, Isomaltulose, and other vitamins and minerals, it makes up for about 20% of your nutrient need in a day.
FEATURES
It rids you of hunger. Sometimes, hunger has no place in a busy day, so you end up skipping a meal or eating a candy bar. All these substitutes do not relieve you from hunger and give you the right nutrients. Soylent is a good replacement for solid food to keep you from hunger with its packed nutrients to help you seize the day.
It keeps you healthy. A 400 calorie bottle replaces a full meal. You don't need to eat less, drink up, and you'll have the essential health requirements you get from soy, sunflower oil, and important vitamins and minerals.
It is convenient. A single bottle is easy to bring anywhere. It fits in your purse or your car's bottle holder. So you don't have the mess of bringing solid food. Soylent doesn't have to be refrigerated and still has a shelf-life of 1 year.
PROS
It is healthy.
It is convenient.
It helps lose weight.
It keeps you energized for hours without an actual meal.
It's easy to store.
CONS
It may not give all the nutrients to keep one healthy; meals may still be needed.
It has limited flavor choices.
It sometimes does not fit into some people's stomachs.
CONCLUSION
If you want to be healthy but do not have the time to keep a planned diet, replacing a meal or two with Soylent food bottles will do the trick. It helps ensure that you get the right and enough nutrients in a fun and convenient dining experience. Soylent has been very helpful for the people on the move to get proper nutrition.
Frequently Asked Questions
How to pick the best vegan meal replacement shake?
The best Vegan Shakes will be rich in amino acids, vegan proteins found in organic whole foods, and provide essential vitamins and minerals.
Spirulina is marvelous to add as it provides 8 grams of protein per 2 tablespoons whilst also rich in Iron and B Vitamins which help protect against fatigue and anemia.
Chia seeds, Quinoa seeds, almonds, and peanuts are also great.
Fresh fruits such as Bananas, Berries, and Mango are ideal, especially for an on-the-go breakfast Shake.
When possible, if buying from your local store: Look out for ones with calcium, Vitamin D and B12. As these can be lacking in the Vegan diet, it's important to avoid essential nutrients.
Our vegan meal replacement shakes effective for weight loss?
Yes! They can be very effective for those wishing to lose weight due to the lower levels of calories per shake and lack of dairy products. Try to avoid added refined sugars or artificial sweeteners in your shakes for a healthier choice when deciding which ones are right for you.
What's the difference between vegan and animal Protein?
Incomplete amino acids mean vegan protein doesn't have all the same amino acids you'd find in animal proteins that your body needs. Because of this, many vegan proteins come from a broad range of plant-based sources, which your body sometimes processes differently. This is part of the reason why getting enough protein and iron is so important for vegans.
How many times per day should I drink a Vegan Shake?
1-3 per day can be consumed by adding it as part of your regular daily meals. Always read the label descriptions when deciding how many is right for you.
Who can drink vegan meal replacement shakes?
Most people, such as older children (teenagers) and adults, can drink Vegan Shakes.
Ultimately, the main thing to be aware of is making sure sufficient amounts of protein and B Vitamins such as B12 and other essential nutrients Vegans may be lacking are there.
As always, please read the labels and descriptions to help you decide if began shakes are right for you!