If you are looking for IdealFit coupons for Ideal Lean Protein and Meal Replacement Shakes, then you have come to the right place.
Finding updated coupons for IdealFit products can be a tough job, but as I am a long-time customer of their products and avid fan, I am always up to date with the newest promotions and happenings over there.
Please note that the IdealFit Coupon Codes below are only for products listed on the IdealFit.com website. You can't use them anywhere else, and it is mandatory to buy the products from the links listed below.
Also, keep in mind that the same company also has some other product lines like great IdealShake by Idealshape Meal Shakes. They have separate coupon codes, and I've listed them here. ​
On Which IdealFit Products will This Coupon Code Work?
​This is a list of products you can get a discount on by using the coupon codes below:
IdealLean Protein Shake
IdealLean Meal Replacement
IdealLean Protein Bars
IdealLean BCAAs
IdealLean Pre Workout
IdealLean Electrolytes
​And all other IdealLean supplements: Burner, Probiotic, CLA, Vitamin D, Glucosamine, L-Carnitine…
And now let's check the updated list of IdealFit Coupon Codes:
IdealFit Coupon Codes​
1. IDEALFIT 15% off orders of $100 or more
COUPON CODE – Take15off
Please note that you should make your order through this link to ensure that the coupon code (Take15off) will work for you!
If you use this coupon code, you will get a 15% discount on any order of $100 and more!
Also, please note that this code won't work on the shipping costs of your order :(.​
2. IDEALFIT 10% Off IdealLean Protein Coupon Code – LEANPROTEIN10
Here is a special discount code [LEANPROTEIN10] if you are interested in buying the IdealLean Protein from IdealFit. To get 10% during the checkout, be sure to buy through this link.
3. IDEAL FIT Save $57 on Fit Girl Essential Stack + Free Shipping! Coupon Code – FitGe
valid until: 01/08/2018
This is a limited time discount code for a special bundle pack of Idealfit products:
1 tub of Ideallean Protein (Choose your flavor)
1 tub of Ideallean BCAAs (Choose your flavor)
1 tub of Ideallean Pre-Workout (Choose your flavor)
1 tub of the brand new Ideallean Creatine
1 Trainer Lindsey's Macro eBook
To use this coupon code properly [FitGe], don't forget to buy through this link.
4. IDEAL FIT Coupon Code for New Customers – 16% Off Your First IdealFit Order – New16
valid until: 30/06/2018
This is another time-limited discount code reserved only for new IdealFit customers. So, if you never bought Idealfit products in the past, you will go with this great coupon code. Just buy through this link with this coupon code [New16]
5. IDEAL FIT Bulk Order Discount Code – 4 Tubs IdealLean Protein for $99.99 – Protein 4
valid until: 01/09/2018
If you want to save big and love the IdealLean protein, you should buy bulk with this coupon code [Protein 4]. The savings are big if you order 4 protein bottles. You will get them for $99.99 through this link.
---
That's all for now. I will keep this post updated regularly, so be sure to bookmark it if you are an IdealFit fan like me :-).
Is There a Free Shipping Code Available?
​There is no more free shipping option available as coupon codes or any other promotion available at the moment.
I know that shipping costs can be high if you count them month by month, but I try to solve this issue by ordering multiple bottle options ;).
And now, let me present you the 2 most popular IdealFit products in my 2 mini-reviews: IdealLean Protein & IdealLean Meal Replacement Shake.
​IdealLean Meal Replacement Shake by IdealFit
Who's tired of skipping meals or snacking on unhealthy food just because you have no time or forgot to prepare your meal?​
If you are one of my kind, then I think I have something to share with you.
After trying all my failed attempts to keep up with my busy schedule and preparing a healthy snack for myself, I searched on the internet for some quick, healthy food ideas, and one fine day, I came across Ideally a meal replacement shake.


After doing my research about the product, I decided to order. Trust me; the meal replacement shake changed my life.
No more staying hungry and no more munching on unhealthy food.
Yes, my cravings were met, my belly was full, and I was able to keep up with my fitness goal. All was achieved just by ordering one meal replacement shake.
What's Inside?​
Ideally, a Meal Replacement Shake provided me with all the nutrients needed by my body to sustain me until the next meal.
Because of its unique combination of complex carbohydrates and fiber, it kept me full and allowed me to have a quick, nutritious and lasting meal.
The whey protein blend in it also helped build my muscles. The meal replacement shake has only 190 calories with 20g of proteins and whey Protein Concentrate & Isolate blend. Because it's a satisfying filling meal replacement, you do not gain weight. It also has omega-3 fatty acids and 20g of carbs, 2g of sugar, and 4.5g of Fat.
There are 30 servings in one container, and it is advised that you have one or two servings per day. So far, it has only two flavors, chocolate and vanilla.
Both the flavors are delicious and have an amazing texture. I love the oats in it as it gives a crunchiness effect in the mouth.
If you have an unhealthy eating habit and want to combat it or are too busy to prepare a healthy meal for you, I would suggest starting with this meal replacement shake because I know very soon you'll notice the change.​
---
IdealLean Protein Shake by IdealFit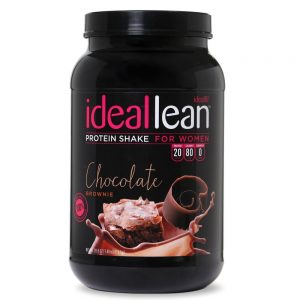 Ideal Lean Protein shakes are a must to try!
I have tried and tested other protein shakes, but so far, this has been the best protein shake. I like all nine flavors, and I think they taste incredibly amazing.
Trust me; it's so much fun to have different flavors every day! So far, Ideal lean protein shakes have mint chocolate, chocolate coconut, cake batter, vanilla, chocolate brownie, caramel, strawberries & cream, peaches & cream, and pina colada as their flavors.
As I am a dessert lover, my personal favorites are cake batter and chocolate brownies, but other flavors are equally delicious.
It's so much fun to have a lean body while having a protein shake that tastes so much like your favorite dessert.


I am in love with this protein shake and would advise all women wanting to have a lean and healthy body to buy this protein shake because I know you won't regret it!
It has zero fats and zero cholesterol with 100% vitamin D and 50% Folic acid in all of its flavors.
It has only 80 calories with Fat Loss Blend that helps you get a lean body.
It also has antioxidants, vitamins, minerals, and super fruits that pump your body with all the nutrition needed.
The best part of this protein shake is that they have been designed for women, i.e., they have kept in mind the needs of women.
Deficiency of folic acid, calcium, and vitamin D is quite common among women, but drinking Ideal Lean Protein shake every day covers that deficiency. I wouldn't say I like it when I have to take extra supplements for folic acid, calcium, or vitamin D, but Ideal Lean protein shake has solved my problem.
One protein shake allows me to stay lean and covers up all of my nutrition needs.
​Speaking of nutrition, the protein shake also has whey isolate, which contains all the essential amino acids needed by our body to repair muscles after a workout. If you are looking for a protein shake, I would advise you to try this because it's worth trying, and you will not be disappointed.