Finding the proper meal replacement shake for women can be a tough job if you are a newbie in this field.
Imagine hitting the gym after 4 years (now that your toddler is pre-school ready), coming home and having to drink the awful tasting protein blend that your husband uses; still feeling haggard, and having to take a host of other vitamin supplements to comp your "woman-specific" needs of Vitamin D3 and such.
I am all for multi-tasking. A working Mom, who's a fitness freak, has to be a multi-tasker.
No, I am not as hyper as you might think. I don't subscribe to the views that a hands-on Mom should always be on the go.
However, I feel that you should be energized enough to handle what the day throws at you when you take good care of yourself by eating and sleeping right.
That wasn't happening in my case, even though I was supposedly doing everything right.
That's when my trainer recommended meal replacement shakes designed especially for women to me.​
Why Meal Replacement Shakes for Women?
The community of weight loss is growing more and more doubtful of diet pills after illegitimate products have over the years deceived many people into buying their fake product with their money.
Nowadays, the diet shake seems to be taking diet pills as the most accepted type of health supplement.
These nutritious shakes are often made to work as meal replacements, giving you active means that offer the potential for you to keep up your energy all day of which the effect will be a superior and better body shape.
I believe that anyone would prefer to make a tasty chocolate shake to take a diet pill, and that is why these diet shakes are more known and accepted than ever before.
That's why I have done the research and picked the best meal replacement shake you can pick as a woman.
Top Meal Replacement Shakes for Women​
Here is a comparison table of top meal replacement shakes for women you can buy without any doubt you are intaking proper ingredients. Just pick the one that fits your current needs the most:​
And below, you can read the reviews of each of them:
---
Review: IdealLean Protein Shake for Women
Lindsey Mathews – a trainer herself, has formulated it; she's a nutritionist too. The idea behind IdealLean is to provide a "shake" by the women, for the women – meaning it will have all nutrients and dietary supplements that are specifically needed to build lean mass inactive women.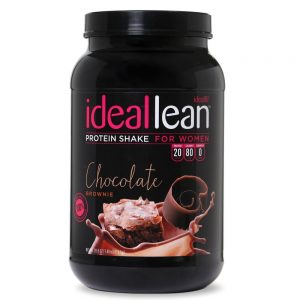 I was intrigued. My husband's protein shake has many ingredients that I hardly require – say fats or carbs, even the protein type is blended. If I took IdealLean, it would mean having only the essentials my body needed. Thus, I could stop the vitamin supplements. I discussed the plan with my physician, and it was okayed immediately.
For the past month, I have had IdealLean with a smoothie or almond milk, and it has worked wonders with my constitution. My BMR had improved infinitely as compared to what I had when I took the generic protein shake.
Here's what makes it a better alternative for women:
The protein in IdealLean is isolated whey protein, which means it is ready for absorption right away. The protein available in generic supplements is blended – and hence, it takes more time to be assimilated into the body.
The calories in one serving are just right, as there are only 80 calories in one pack of 30 servings. It also helps lose a lot of fat, as the blend is aimed at building lean mass.
The taste is sweet, so you don't need to add any sweeteners.
There are absolutely no fats, carbs, or sugar – that means you are on your way to losing weight even if you are not working out regularly and use this as just a meal replacement drink.
Several seasoned women athletes tried and tested the mix – ranging from gym freaks, Olympic weightlifters to motocross riders. Their testimonials are not fuelled by endorsement contracts but real-life experiences. This gives me the confidence to lean on IdealLean, too, for my daily "repair fix" after a sweaty workout session.

What's the recommended intake per day?
I have been following the intake pattern – 1 scoop with a banana smoothie 2 hours before the workout and another right after the workout. It all depends on whether you want to lose or gain weight. I do not want any fluctuation in my weight, so I balance my intake before and after the workout. You can discuss with your trainer about the right method for you.
Does it work?
It has helped me a lot by:
Serving as a vitamin supplement too. Now I don't take other supplements.
Serving as a meal replacement drink when I am too lazy to cook.
Building lean muscle – my weight is the same, but the metabolism has improved.
Providing reserve energy – now I am a lot more equipped to deal with my toddler!
Anything to watch out for?
I don't see any side effects or flip sides of the shake. Only:​
Some people may find the flavor a little on the sweeter side
Many of us may be tempted to overuse it as a meal replacement drink
To conclude…
So, working Mom or not – if you are a woman over 18 years of age and have a very active day (sports, office, gym, chores at home (!) – you name it!), you are the ideal candidate to start using IdealLean.
You'll see an immediate difference if you were using other protein supplements earlier. If you weren't using any shake, as unlikely as it is, you'll experience a welcome change in your physique and overall energy levels. After an awesome workout session, whip up a smoothie, sit back into the recliner, put your feet up, close your eyes and savor the chocolate/vanilla flavor of your IdealLean – one sip at a time!
If you are serious about buying products from the IdealLean line, whether it is protein powder or meal replacement shake, before ordering, be sure to check my IdealLean by IdealFit coupon page to get some savings.
---
Review: IdealLean Meal Replacement Shake
If you want a lean figure and muscles but do not always have the time to prepare the right healthy meal for yourself, you sometimes have to either skip your meal or resort to unhealthy snacking.
You may be a serving lady or a homemaker; your fitness mostly suffers due to a lack of time for yourself. You spend all your precious time in the care and concern of your job and your family. Although there is nothing wrong with that, your health is equally or even more important so that you can continue to dispose of your duties efficiently.​
The product


IdealLean is the product that you need to take care of your energy requirements till your next meal.
Just take a scoop of this, and neither will you have to go through underfed nor do you have to eat junk food. With just 190 calories, it maintains a high 20-gram protein, which means your body gets the energy but very little or no fat.
It has a balance of all the nutrients that your body requires as it is made up of sweet potato powder and oat flour. It comes in two delicious flavors, vanilla and chocolate.
The pack weighs 55.03 Oz (1,5660 grams) and has 30 servings in it. The IdealLean has not been noticed to have developed any complications and hence is totally safe. You may want to consult your physician before starting to have it in the case of any previous allergies or during pregnancy.
Wholesome Nutrition in a Scoop
The perfect balance of all necessary nutrients in a healthy manner, whereby your body does not feel undernourished, and at the same time, it does not accumulate any extra calories or fat, makes this product an instant hit. While you are working out, the body needs appropriate nutrition to lose fat and develop muscles.
More Than Just a Protein Shake
A protein shake contains a high concentration of protein but very few calories and other nourishing elements.


It does not meet the body's requirements of food.
IdealLean, on the other hand, is a balanced diet packed inside the powder with sufficient calories, protein, multivitamins, etc. So, you get all the required nutrients.
Filling and Hunger Controlling
The unique combination of oat flour and sweet potato powder in the right quantities makes the IdealLean filling for the stomach, and therefore there is no more craving for food after having a scoop of this. Therefore, you avoid eating excess and hence lose weight faster.
PROS
These are some of IdealLean benefits:
It provides a balanced and wholesome diet without adding extra calories to your body.
It curbs hunger and hence avoids stacking up fat from junk food in your body.
The great taste of vanilla and chocolate means that you do not get bored with it.
CONS
There are no drawbacks to report. However, it is advisable to start having the IdealLean only after consulting your physician, in the case of any previous history of some allergy or if you are pregnant.
CONCLUSION
You tend to ignore your food while carrying out your official and family duties. This ultimately affects your health in the long run and harms your entire life. Now, you can take care of your body's nutrition requirement by having only a scoop of IdealLean instead of skipping your meal or going for detrimental snacks. With IdealLean, you feel satisfied and light. With its hunger control, it avoids extra calories from entering our system.​
---
Review: Fit Miss Delight Protein Shake
It works for weight loss; Fit Miss Delight provides some nutritional benefits to assist you to lose the extra pounds and assist you in gaining muscle also, which, together with a good program of strength training, can assist you to shed the weight quicker.


Delight provides protein of 16 grams with a scoop serving, which will keep you full; it gives 64% protein. And also, to help your weight-loss objective, Fit Miss Delight provides you 16 grams of protein in just 90 calories.
The protein composition of this product is exceptional as it comprises whey protein concentrate, isolate, and hydrolysate, which is also a unique mix that is referred to as Solathin.
Fit Miss says that this combination enables a much more effective weight loss. Additionally, Fit Miss Delight adds a couple of nutrients such as calcium, iron, potassium, and magnesium, which are all significant parts of women's health.​
A protein shake can be seen in 3 different flavors
Less than 100 calories provided per portion
It doesn't include any gluten
It has a shallow sugar content
It is rich in nutrients and vitamins
CONS
It includes artificial flavors
It doesn't have a nice state
Fit Miss Delight is nice when it comes to protein composition, but it helps fat loss and contains vital nutrients t. It is one of the first and only meal supplements to include the new weight loss aid, Solathin. Because of the few holes in the nutrient profile, this isn't something you would constantly use as a meal replacement regularly, but instead as an addition to a healthy and well-balanced diet.
Fit Miss delight can be used to aid weight loss and muscle growth, and a lot of people see the effects already.
Fit Miss Delight is a very nice product for women who want to shed some extra pounds and healthy fashion without giving up nutrients and taste. It contains a high protein yield, vitamins, and blends to be a great healthy product. Fit Miss Delight's taste is great and would be very helpful in your diet, and you will be flaunting that bikini body in no time.